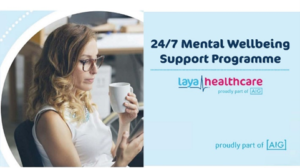 Mental health and wellbeing is an important part of our overall health. It affects everyone, but not everyone benefits from access to expert wellbeing support. MJ Conroy have partnered with Laya Healthcare to provide you and your family members with such support. The Laya Healthcare Employee Assist Program (EAP) can be contacted directly and in confidence on 1800 911 909
The service is available 24 hours a day, 365 days a year.
App &https://layaeap.ie/login
Counselling
Legal information
Financial information
Consumer information
Career guidance
Life coaching
Mediation
Health information
Cancer support
Autism support
Infertility & pregnancy loss
Elder care support
Parent coaching
International employee support
Please provide your company name when you call.