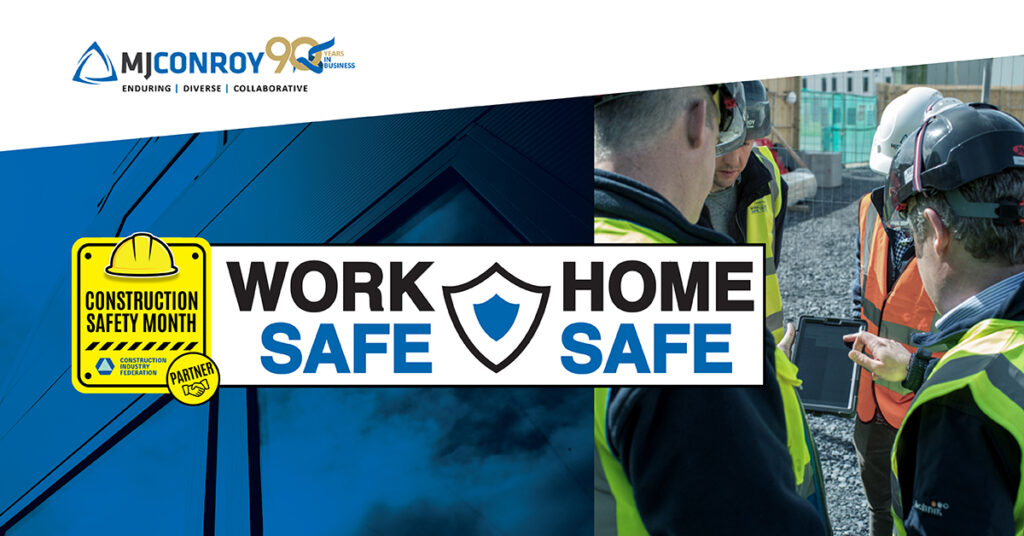 At MJ Conroy, we take safety seriously. Our team must ensure the right internal controls and systems are in place to meet statutory requirements as well as external management systems such as ISO and Safe-T-Cert.  
Within Ireland, the relatively high percentage of international companies – mainly from the US, involves large manufacturing and service bases that require additional oversight for safety and quality control. Meeting those standards internally and ensuring compliance for our network of suppliers and subcontractors requires significant investment.

Paper to Digital Transformation
At MJ Conroy, we've undergone a significant transformation, leaving behind our traditional paper-based methods in favour of a cutting-edge ICT system to manage all safety-related processes. 
This has enabled us to standardise and streamline many of our OHSMS protocols to successfully manage the 100+ subcontractors and various projects that we can be involved with at any given time. 
Partnering with HammerTech – a leading HSEQ software platform provider in the construction industry – the new all-in-one system centralises many of our processes, replacing the need for paper, excel and individual apps. We now have key operational information to manage compliance, control risk and improve safety – all accessed quickly and remotely from one online platform. Adopting a cloud-based system with digital workflows has had a significant impact on our business and by association, our subcontractors and their own employees.
"We've done a 180 degree turn and gone from a fully paper-based system to an online system and brought our 100+ employees and subcontractors along the journey. We want to show our clients, we are always driving to improve safety standards and increase efficiency."

~ David Conroy, Director – MJ Conroy

Key Deliverables
Often, change can be difficult, but failing to change can be even tougher, especially in the long term. Embracing technology can be transformative and has enabled MJ Conroy to adapt and leverage tools that will ultimately raise safety standards across our business.
Auditors can now access all the relevant safety information in one location. Previously, this would have involved a site visit and obtaining multiple files/folders.
At the touch of a button, key stakeholders can retrieve employee records, safety training and other important assets remotely. Gaps in compliance can also be quickly identified.
The ease of navigation and ability to stay informed with technological updates gives prospective clients enormous confidence in our processes. This can inspire referrals and repeat business opportunities.
Orientations and induction training can be completed remotely before an onsite visit. This accelerates the onboarding process. Training records can also be uploaded.
There is higher interaction between employees and subcontractors to ensure strict compliance with the various safety and management procedures.