Organ Donor Awareness Week 2022 runs from April 23 to 30.
There are currently around 600 people in Ireland on a waiting list for organ transplants including heart, lung, liver, kidney, and pancreas.
Featuring on this year's campaign poster are photos of 32 people from all walks of life and of all ages, who between them are enjoying over 410 years of extra life thanks to the families of deceased organ donors who gifted them organs including hearts, lungs, livers, kidneys, and pancreas.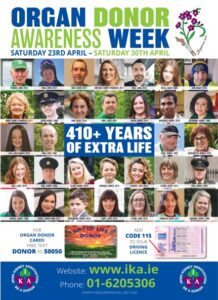 Operations for organ transplants continued throughout the Covid-19 pandemic with 206 carried out in 2021, which was 16 more than in 2020.
At the launch of Organ Donor Awareness Week, people are being urged to become organ donors.
The Chief Executive of the Irish Kidney Association, Carol Moore said this week's message is to "Share Your Wishes", to approach family members to discuss organ donation wishes.
The key message is that members of the public can play their part in supporting organ donation for transplantation by ensuring that their families know their wishes. Sharing your wishes when you are in good health makes it a less stressful decision for your family in the event of them being approached about you being a potential organ donor.
Heart & Lung Transplant Surgeon, Professor Jim Egan, said there are approximately 30,000 deaths every year in Ireland and there are only 100 donations required most years.
Last year he said, there were 65 donors and there is considerable work to do to get to the ideal of 100 per annum.
Individuals who wish to support organ donation are encouraged to keep the reminders of their decision available by carrying an organ donor card, permitting Code 115 to be included on their driver's licence, or having the Digital Organ Donor Card app on their smartphone.
Organ donor cards can be requested by visiting www.ika.ie/get-a-donor-card, Alternatively phone the Irish Kidney Association on 01 6205306, or Freetext the word DONOR to 50050.