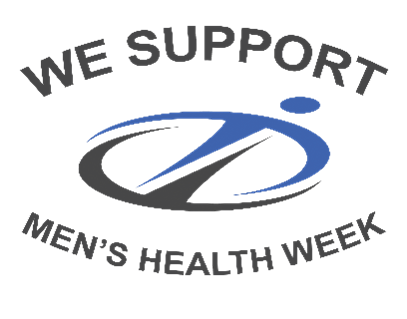 Men's Health Week 2021
Men's Health Week (MHW) 2021 runs from 14th – 20th June. The core aims of MHW each year are to:
Heighten awareness of preventable health problems for males of all ages.
Support men to engage in healthier lifestyle choices and activities.
Encourage the early detection and treatment of health issues in males.
The theme of MHW for 2021 is "Making the Connections", and everyone is being asked to 'check in, check up and check it out' to improve both their own health and the health of those around them.
CHECK IN with yourself to see how you are coping / feeling, and to identify any health worries that you might have.
CHECK UP on your family, friends, neighbours, colleagues to see how they're doing and to offer support.
If you notice anything worrying or which needs medical attention, CHECK IT OUT and seek information / help / support / treatment as soon as possible.
Why is there a need to hold a Men's Health Week? 
Males constitute almost 50% of the population on the island of Ireland and, therefore, deserve to have a gender lens focused upon their specific health needs. Research clearly shows that men experience a disproportionate burden of ill-health and die too young …
Men die younger than women do.
Males have higher death rates than females for almost all of the leading causes of death and at all ages.
Men's poorer lifestyles are responsible for a high proportion of chronic diseases.
Late presentation to health services can lead to a large number of problems becoming untreatable …
The 'Challenges and Choices' Man Manual?
Research clearly shows that there are many challenges to be faced when seeking to improve men's health. However, it also highlights that men's health can be improved in many significant ways – if the right choices are made. Men, themselves, have a key role to play in this process.
One of the most successful and sought after elements of previous Men's Health Weeks has been the 'Challenges and Choices' Man Manual which is distributed free-of-charge to males throughout the whole island of Ireland.
The 'Challenges and Choices' booklet is a male-friendly, 32 page publication, which highlights ten key men's health issues i.e. alcohol, food, physical activity, smoking, stress, blood pressure, sexually transmitted diseases, skin cancers, back care and help-seeking behaviour.
View the manual by clicking this link; https://www.mhfi.org/challenges2021.pdf
Find out more information on MHW & Healthy eating / healthy lifestyle ;
https://www.hse.ie/eng/about/who/healthwellbeing/our-priority-programmes/heal/healthy-eating-guidelines/
https://www.mhfi.org/challenges2021.pdf